I am terrible at updates and lately I have been terrible with my shakes.  I will be 100% honest, I love the shake. I absolutely love them but I have had at least one chocolate crunch bar every day for the past 2 or 3 weeks(except the last couple of days).  I have a video of me promising Chad I will stop eating chocolate (as I am sitting here eating animal crackers instead).
I am holding myself accountable now. My 5 week picture wasn't much different than my week 2 picture except for my butt and a few other noticeable areas.  What has been my weakness?  No support and honestly, french fries and chocolate.  If you asked me 2 things (other than Olive Garden) that I would live off of and I would tell you, "Potatoes and chocolate."  I realize now I can have the best of both worlds, I found healthy potatoes that I can eat and I can sacrifice a little bit so I do not teach my kids the habits I have taught myself.
I am proud to say that I have gone 3 days without chocolate – do you know how freaken hard that is?  I dream of crunch bars.
I am writing this not only to get you to try the shakes that I am taking, although even though I wasn't taking them how I should have, I still have more energy when I take them and I feel better.  I notice that when I take the shakes Greenlee (I am breastfeeding my daughter) is better too, she sleeps better when I take the shakes because of all of the nutrients that are in them.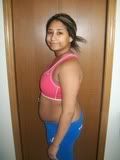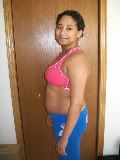 Anyway, above are my pictures, I noticed that my boobs are bigger. I didn't pump before I took the picture this time so that is why there is a difference. The first one is the 2 week update and the second one is the 5 week update, I am no longer posting weight, although I did lose a few pounds. I will be hosting a contest and in 4 weeks when I am done with my challenge whoever guesses my weight will win 30 days of the ViSalus shakes.
I am happy to say that I am doing great on the diet and although my weight loss isn't where I want it to be, I know it will get there and with the support I am now getting that will help me as well. Now ask yourself, do you want to be that better example with your kids? Start here, take the challenge.